As I said above I did not think of traveling by bus Stray in New Zealand but this experience was finally positive and I recommend this way of transport in New Zealand (or another country) especially if you are traveling alone .
Without great hesitation and on the recommendation of the staff of the inn in which I was in Auckland, I opted for the company Stray. I was able to buy a pass the day before the departure (period February / March). The meeting point was a few minutes walk from my accommodation.
1

Meet other travelers (solo)

By traveling with hop-on hop-off buses, we meet other travelers who often also travel alone. Meeting other travelers when traveling alone in his rental car or his camp is not obvious. Stray buses allow you to share the adventure with other bus passengers.

This is undoubtedly the main reason that made me choose this mode of transportation to visit New Zealand. I did not imagine myself in my rental car for 3 weeks.

With flexible buses, we are surrounded by open, curious and adventurous people who also wish to meet other travelers and enjoy their journey.

There are an average of 30 passengers of various nationalities per bus.
You dream of visiting New Zealand but you are alone? Opt for the hop-on hop-off bus journey. It is the best solution to travel alone without being🙂
2

Travel at your own pace

The hop-on hop-off buses allow you to be extremely flexible and to travel as you wish.You can go down at any time and spend several days / weeks / months at the same place. Stray bus passes in New Zealand are valid for one year. They allow you to travel at your own pace according to the time available  (PVT, sabbatical, holidays, etc.).

If you only have 2 or 3 weeks available, you will not have much room for maneuver and will have to follow (to the letter) the route you have chosen. For example, if you stay 3 weeks in New Zealand (around 2o nights) and the itinerary you choose is 18 nights you will have to follow the "minimum" route of departure.
3

Peace of Mind

In New Zealand, one rolls on the left side of the road which requires a time of adaptation. Extreme climatic conditions depending on the season and the narrow and winding roads in places can be stressful for some drivers. Traveling with flexible buses is also a way to travel safely .

The preparation of a road trip can mean hours of research and preparation to plan your trip (road, visit, points of view not to be missed, etc.).

With hop-on hop-off buses everything is already planned, itinerary, accommodations, activities and even stops at the supermarket to do its shopping. Despite this, everything remains very open and flexible:
we decide if we want to sleep at the proposed place or not (sometimes we have no choice)
we choose to do or not the activities proposed and what activities to do (hikes, rafting, mini-cruise, visits, etc.)
you can choose to eat in the restaurant where to prepare your meals yourself while shopping during the stops at the supermarket.
Traveling with Stray buses allows you to relax and enjoy the scenery along the route. We are rested and we can fully enjoy the activities proposed.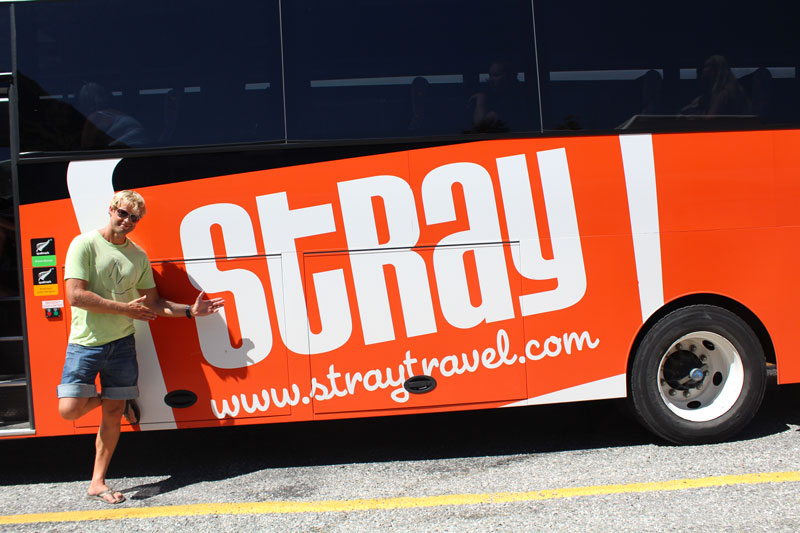 Save
4

Do not miss the inatables

Stray bus drivers / guides are enthusiasts. They know their country and are motivated by sharing. They give lots of information along the way and know the best spots (photos, etc.). On each journey several stops are planned to visit the unavoidable (caves of Waitomo, Punakaiki, etc.) where to do activities impossible to circumvent (walk to the falls of Huka, etc.) in New Zealand.

Traveling with a person who knows his country very well is a huge advantage of traveling by bus Stray in New Zealand.

One negative point of the bus trip is that you can not stop when you want (even if the driver is pretty cool and stops if asked).
5

Discover New Zealand's culture and history

Stray buses are the most famous hop-off buses in New Zealand, surely because, beyond the proposed activities, they are interested in discovering the culture and history of New Zealand .

Their program includes, for example, the discovery of the Maoris culture where one night at the Blue Duck Lodge, a large farm involved in conservation work and protection of the endangeredBlue Duck in New Zealand.
6

 Respecting your budget

Traveling by bus Stray in New Zealand helps to better manage and respect its budget.Stray bus passes may sound expensive, but if you put in the balance
the price of the rental car, the gasoline, the fatigue and the stress of the road
the risk of missing the inatables where less known spots
the management of reservations for accommodation and activities (taken care of by the drivers / guides Stray)
this seems to me a reasonable price.
The most complicated is not to explode its budget by participating in all the proposed activities.Under the influence of the group, one can be tempted by the enthusiasm of our fellow travelers.
Think of visiting the Stray website regularly, they regularly make promos.
7

 Traveling eco-responsible

Stray is committed to environmentally friendly tourism . Stray buses are new, which reduces emissions and saves fuel. The size of the buses and the starting number of the towers vary according to the low / high season. Traveling with a Stray pass reduces its own carbon production.