I am only reporting here on international flights (except for the flight from west to eastern Canada, because for us it was really 2 different trips). The few internal flights that we have taken will be included in the country expenses that I will be publishing soon.
In addition, I differentiated the expenses of air tickets in 2 parts: before the 2 years of Éléanor and after the 2 years of Éléanor. Why ? Simply because before 2 years a baby does not pay almost (but is on the knees). After 2 years, a baby has its headquarters but pays between 75 and 100% of the price of an adult, according to the companies.
It's gone for the numbers, I'll find you right after for the analysis! 😉
AIRLINE TICKETS BEFORE THE 2 YEARS OF ÉLÉANOR
Paris-> Colombo (Air India): 767 € (including 19 € for Éléanor)
Colombo-> Kuala Lumpur (Air Asia): 173 € (including 10 € for Éléanor)
Kuala Lumpur-> Bali A / R (Air Asia): 256 € (including 20 € for Eléanor)
Kuala Lumpur-> Rangoon (Air Asia): 106 € (including 10 € for Éléanor)
Mandalay -> Chiang Mai (Bangkok Airways): 314 € (including 27 € for Eleanor)
Pattaya-> Singapore (Air Asia): 155 € (including 16 € for Éléanor)
Singapore-> Langkawi (Air Asia): 94 € (including 16 € for Éléanor)
Kuala Lumpur-> Bangkok (Air Asia): 79 € (including 13 € for Eleanor)
Bangkok-> Kuala Lumpur (Air Asia): 154 € (including 13 € for Eléanor)
Kuala Lumpur-> Sydney (Air Asia): 747 € ( see at the end of the article ) (including 26 € for Éléanor)
Sydney -> Christchurch (China Airlines): 352 £ (including 63 for Eleanor)
Auckland-> Noumea (Air NewZealand): 341 € (including 13 € for Éléanor)
Nouméa-> Brisbane (Air Calin): 539 € (including 17 € for Éléanor)
SUBTOTAL: 4077 €
(INCLUDING ELÉANOR SUB-TOTAL: 263 €)
This first part of the trip, before the two years of Eleanor (September 2016-May 2017), will allow us to travel to South Asia and Oceania at a lower cost. Of the 4077 € spent on 13 flights, Éléanor will have cost us only 263 €! When you are told that it does not cost more to travel with a baby: p
AIRLINE TICKETS AFTER 2 YEARS OF ÉLÉANOR
Cairns-> Tokyo (Jetstar): 442 € (including 147 € for Éléanor)
Osaka-> Busan (Peach): 136 € (including 36 € for Éléanor)
Seoul-> Seattle (Asianan): 1795 € (including 500 € for Éléanor)
Calgary-> Montreal (Westjet): 518 € (including 172 € for Éléanor)
Quebec-> Reykjavik (Icelandair): 797 € (including 237 € for Éléanor)
Reykjavik-> Paris  (Wowair): € 328 (including € 109 for Eleanor)
SUBTOTAL: 4016 €
(INCLUDING ELÉANOR SUB-TOTAL: 1201 €)
After the 2 years of Éléanor, we took fewer flights (yours, yours!). From then on, we systematically paid 3 air tickets (the one for Eleanor was often a little cheaper, about 25% less). This gives us a glimpse of what will cost us our travels now.🙁
Pssst : you can see our complete itinerary of round the world on Tripline .
TOTAL COST OF AIRFARE FOR OUR ONE-YEAR WORLD TOUR (WITH A BABY)
So, summing everything up, we spent on airplane tickets in 1 year round of the world a total of …
(drum roll)
8093 €
When the calculator released this amount, I first said, "  Wow, that's really a lot! ".
Yet, by reducing the price per adult (and per child), it seems less impressive immediately:
TOTAL PER ADULT: 3314 €
TOTAL PER CHILD: 1464 €
Thus, we took 19 international flights for an expense of 3314 € per adult and 1464 € for Éléanor .
This ultimately only costs € 174 per flight per person (and € 77 per flight for Eleanor)!
TICKETS AS YOU GO VS TICKET AROUND THE WORLD
There, I see you coming with your big clogs of apprentices tourdumondiste or tourdumondiste seasoned: a ticket round the world would not it cost less ??
I'm not so sure …
You know, in preparing our trip we  bought a round the world ticket that we had finally canceled . This ticket would cost us 2766 € per adult. It is cheaper, of course.But there were only 6 stops. This round the world ticket covered only the major international routes: Paris – Sri Lanka – Southeast Asia – Oceania – North America – Paris.
It would therefore have been necessary to add the price of low-cost airlines (especially in Asia) to visit several countries.
Adding up the price of the different flights that we took in Southeast Asia (arriving and departing from Southeast Asia by Kuala Lumpur), I already arrive at 579 € / adult.
EITHER: 2766 € (ROUND THE WORLD TICKET) + 579 € (ASIA TICKETS) = 3345 € / ADULT
We are above the price we paid by taking our tickets as you go!
And there would probably have been a need for more flights to Australia, New Zealand and North America so that you would not have to hit a car or bus! Not to mention that our itinerary with the round the world tour did not include Japan and South Korea that we decided to visit during our round the world trip.
So, the note would certainly have been even more salty!
Moreover, I speak for the moment only of the price per adult. If we had taken a round the world ticket with the same travel dates, straddling the anniversary of the 2 years of Eleanor,  we would have had to pay a round-the-world ticket for it too (at the child rate, this must be around 2000 €). While taking our tickets as we started we really only paid for it from her 2 years .
A final argument in favor of tickets taken as we go around the world with a baby:we had the freedom of flights . With a round the world ticket, the choice of schedules and stopovers is very limited. As we pay attention to the natural rhythms of Eléanor (and we want to avoid crises and jetlags too hard to manage!),We have not always taken the cheapest flights.  We prefer the most direct flights (or with stopovers at adapted schedules, for example: not in the middle of the night !!) as well as flights at the time of the nap or the dodo of the night well for her, but also for our tranquility!).
Add to that the freedom to actually decide our itinerary during your round the world … There is no picture for me!
BONUS: THE BIG KIF, OR HOW WE COULD HAVE FURTHER CUT OUR EXPENSES FOR AIRLINE TICKETS!
This is without comment … 😉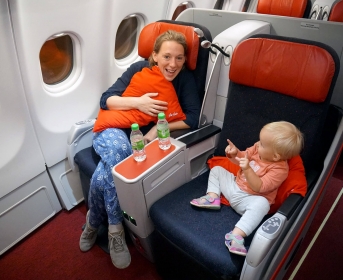 No, we were not upgraded (this day so much hoped by all travelers has not yet arrived!). We paid to travel in this comfort, this luxury, this voluptuousness …
Imagine … flight Kuala Lumpur to Sydney, 10 hours flight by night. Mmmm, what a pleasure to be able to lie down completely, sleep otherwise than sitting and arrive fresh and available in the early morning,almost not even thrown away!
To pay for this kif, did we win the Thai lottery? Did Laetitia sell her body? And me a kidney?
Not even, I just flushed a great deal ! While usually traveling in business class costs 3 to 5 times more than in economy class, it was for this flight just double (we paid 360 € / adult while the price in eco class was 180 €).
Add to this that it was a low-cost flight on Air Asia (already cheap at the base) and that it was before the 2 years of Éléanor (no place to pay for it; Laetitia had to share her seat-bed!), So it was really a great plan.
In short, we could have saved 360 € on our expenses of air tickets . But the kif was well worth this money!