the world with baby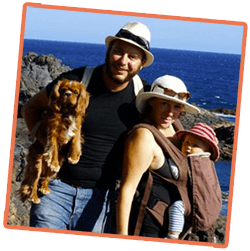 Welcome to our blog ! You are in the right place if you want to follow the adventures and reflections of a family traveling around the world. The family in question is: Tony, Dad, Laetitia, Mom and Eléanor, the 1 year old baby (and Paulo, our faithful doggie).
To learn more about us, we have a About About Complete page.
If you do not want to miss any of our adventures and articles on this blog, go to our facebook page and click on "Like". In addition, or if you are not on facebook, you can fill in your e-mail address in the form on the right. We will send you news from time to time by e-mail (and you can unsubscribe whenever you want if you're drunk!).